About Us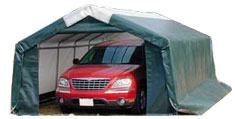 Portable Garage Depot's mission is to provide you with all weather shelters, portable garages, carports and canopies at affordable prices. We want to help you solve your shelter or storage needs. If Portable Garage Depot does not have the product to match your needs or if we do not offer the product or size you are looking for, we are committed to helping you find that product - even if it means referring you to another company. Our goal is to get you the product you need - not the product we are selling.
There are many different shelters on the market today and it can be very confusing to the consumer. There can be much more than the size or price that makes the units different. How strong is this unit? How thick is the cover material? What is the frame made of? Am I buying a lightweight version or a heavier version?
Our portable garages & carports offer instant garage and convenient year-round storage and protection for cars, trucks, ATV, motorcycles, boats, equipment & much more.
Shelter Frames
Constructed from heavy duty structural steel with sturdy 4' spacing between the ribs or rafter supports.
All-steel Dupont

™

thermoset baked on powder-coated finish

prevents chipping, peeling, rust and corrosion.

Rhino Shield

-Every frame

tube and connector goes through a proprietary 13 step Rhino Shield surface preparation process.

ShelterLock

™

stabilizers ensure rock solid stability. Delivers a stable, more durable shelter frame.-

Patent Pending

Universal steel foot plates

for easy and solid connection to ground anchors, cement or pony walls.

Bolt-together hardware

at every connection point ensures maximum strength and durability.

Swedged tubing for slip-together easy assembly.

No drilling or field cutting is required.

Wind braces included.
Fabric Cover Material
Main Cover and zippered end panel doors are made from advanced engineered, triple-layer, chemically heat bonded enhanced quality weave, rip-stop, waterproof, polyethylene cover. UV-treated inside and out with added fade blockers, anti-aging, anti-fungal agents resulting in a fabric cover that withstands the elements.
Rugged Ratchet Tite

™

Tensioning System

provides simple installation while keeping cover tight to frame.

Easy Slide Cross Rail System

locks down and squares up covers.

High profile white interior provides enhanced illumination.
Fabric Cover Options
All fabric weight calculations are in oz. per m2.
Polyethylene (PE) Heavy Duty: 9 oz.
1 Year Mfr. Warranty- 5-7 Year Life Expectancy
Forest Green , Gray, Tan or Translucent Clear
Polyethylene (PVC) Industrial: 14.5 oz.
Fire rated FR fabric CPAI 84 Section 6 and NFPA-701 Large Scale compliant.
10 Year prorated Mfr. Warranty- 10-15 Year Life Expectancy
Forest Green, Gray, Tan or White
Polyvinyl Chloride (PVC) Ultra-Duty: 21.5 oz.
Fire rated FR fabric CPAI 84 Section 6 and NFPA-701 Large Scale compliant.
15 Year prorated Mfr. Warranty- 15-20 Year Life Expectancy
Hunter Green or White only
We DO NOT offer low quality - extremely lightweight versions.
Characteristics of lower quality carports and portable garages to avoid:

Very Thin wall steel tubing- 20 gauge or higher is too thin! 17 gauge or lower is recommended. Higher the gauge - thinner the steel tubing in the frame.

Legs in the frame spaced more than 5' Apart - 4' or less recommended

Cover Material is less than 7.5oz / 18 mil- Many companies offer very lightweight silver or white cover material that is 6oz / 12 mil or less. We recommend 7.5oz or higher.

Cover material attaches to frame with either Velcro or bungee cord attachment methods- This is EXTREMELY lightweight. Purchase models that use poly rope lacing or ratchets and ratchet straps to secure cover to frame.

Anchors - avoid models that use plastic base feet or ropes, tethers and stakes on outside of shelter!

IMPORTANT! - If this information is not available for a product then the seller may be hiding the fact it is a lightweight version - ask before you purchase!
Please Call one of our product associates today and we will spend as much time as you need helping you answer ALL your questions.
Manufacturing, Warehouse and Pickup Location:
150 Callender Rd Watertown, CT 06795
(An appointment must be made prior to picking up at the warehouse)
Contact Information
Portable Garage Depot
Call or Text us at: 475-308-8477
Product Associates are available:
Mon-Fri 9:00 AM to 5:00 PM EST and
Sat-Sun Closed
Email:
customerservice@portablegaragedepot.com