Portable 2 Car Garage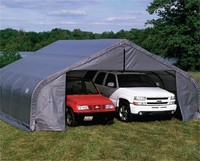 There are many different styles and sizes of portable car garages. It is possible to get a portable car garage that is big enough to fit two cars. A portable 2 car garage will be wider than a normal portable car garage. If you have more than one vehicle, you should purchase a portable 2 car garage.
Call Us @ 475-308-8477
If your home does not have a garage and you own multiple vehicles, you could benefit from a portable 2 car garage. Leaving your vehicles outside and uncovered can be harmful to them. Exposure to rain, snow, hail, and the sun's ultraviolet rays can depreciate the value of a vehicle and cause high maintenance costs. Rain and snow can cause interior water damage to electronics and upholstery. Hail can dent the body of a vehicle and crack its glass, too. Lastly, the sun's harmful ultraviolet rays can cause paint to crack and fade. All of this can be avoided if you park your vehicles in a portable 2 car garage every day. The canopy, made of a triple layer polyethylene material, will provide protection from all of the elements that could damage your vehicles. The polyethylene canopy is treated to be water and UV ray repellant. The frame for a portable 2 car garage is made from powder coated steel that will not rust or corrode. Feel confident that when your vehicles are in the portable 2 car garage that they are safe.
You can purchase portable 2 car garages starting at around 18 feet wide and going up to 40 feet wide! With an 18 foot wide portable 2 car garage, you can easily store up to two vehicles daily. With an easy open and close zipper in the front and back, you can pull your vehicles in and out with no problems. Choose from a round or house-style portable 2 car garage. The round style has high rounded top and the house style peaks at the middle of the roof. You can also upgrade your portable 2 car garage with lighting, utility shelves, or a joiner kit that will allow you to combine more than one portable garage into a single shelter.
Don't let your vehicles stay outside and uncovered any longer. Protect your investments with a portable 2 car garage!