Portable Garage Kits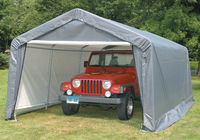 A portable garage kit is an inexpensive and multi-functional alternative to having a standard brick and mortar structure built. There are many different sizes and styles of portable garage kits that you can choose from that will best fit your needs. No matter which one you use, they are all flexible enough to take on many different tasks. Protect many different kinds of items from the outdoors with a portable garage kit.
Call Us Toll Free @ 475.308.8477
A portable garage kit is made up of a heavy-duty steel frame, a polyethylene material cover, and anchors. The steel frame comes with a baked-on powder coating that prevents chipping, peeling, rust, and corrosion. The polyethylene cover is triple-layered and chemically heat bonded to prevent rips and leaks. It is UV treated inside and out to protect the contents from sun damage. The anchors are used to keep the cover down and add extra stability. You can purchase optional accessories such as a tool holder, joiner kit, ventilation kit, utility shelf, lighting kit, or even an EZ roll up door kit at an extra price.
A portable garage kit can house cars, trucks, RVs, campers, boats, motorcycles, and equipment, and can even be a storage area for household items. Park your car or truck under the portable garage and it will be protected from rain, wind, snow, hail, and the sun. Never worry about cleaning the snow off your vehicle again if you keep it stored in the portable garage. Use the portable garage as seasonal storage to protect your boat, RV, or motorcycle. If you have seasonal decorations or extra things in your home that you have no room for, store them inside your portable garage. You will not have to worry about your possessions getting wet, fading from the sun, or being damaged from the wind, because the portable garage kit includes a cover that goes across all four sides and zips up the front and back.
Protect any of your belongings with a portable garage kit. For thousands less than a standard brick and mortar garage, a portable garage kit will provide you with the same protection. Do not lose value on your investments because they sit outside uncovered every day. Purchase a portable garage kit today and have the peace of mind that your possessions are well protected.