Camper Storage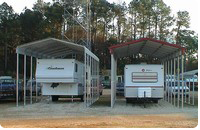 Our wide variety of affordable portable camper storage buildings, and/or camper storage covers makes us a leading source for all portable storage structures. We offer all weather protection for your RV, camper, car, truck, boat, or construction equipment with our easy to assemble, easy bolt design, making your assembly experience easy as possible. RV shelters along with all of our portable storage buildings are made of the highest quality powder coated or double galvanized steel framing and UV resistant, fire retardant polyethylene rip stop material to offer the ultimate in all weather protection. Our fabric components feature heat seam construction, to keep your valuables protected from all outdoor weather elements.
Call Us @ 475-308-8477
Portable Garage Depot guarantees to have an RV storage structure fit for your camper storage needs. While protecting your vessel from the elements, our temporary buildings offer plenty of space to do other things while your camper is on the road. Get the same protection for cars, trucks, motorcycles, all terrain vehicles, workshops and much more with our temporary storage buildings. Double sided zippers makes for easy access from both sides and gives you drive through capabilities.
We offer a few different styles of portable RV storage cover buildings. Quonset round style instant shelters, peak style portable buildings and truss style big buildings are just a few of the many styles we offer. Round style storage shelters are good for snow and rain because it allows for easy runoff and less load on the structure. Peak and house style buildings offer the extra space on the sides and a high center ridge height. Our larger truss style temporary buildings offer the most space and storage capacity. Whatever your storage need, commercial or residential, we have the temporary storage shelter for you.
The easy to read instructions, our pre cut and drilled framing, along with easy bolt together design, allows simple installation of one of our portable camper storage shelters. Portable Garage Depot has your convenience in mind while trying to give an easy to assemble, heavy duty, high quality portable storage product. Our portable camper storage covers are made to assemble easily without compromising the structural integrity of our portable storage products. All of our portable motor home cover kits are made to assemble easily and last a lifetime.
Store what you'd like under a temporary camper cover or storage building from Portable Garage Depot, or choose from our list of colors and sizes to choose the right storage structure for you. Being a leading manufacturer's supplier of all our own all weather multi purpose, portable products, we can offer the lowest prices when buying factory direct. Cover your valuables with the heavy duty protection of a Portable Garage Depot instant camper cover or portable RV storage building.