Garage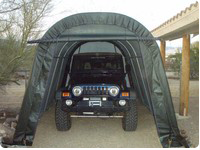 Portable Garage Depot offers a wide variety of affordable portable garages, that can also be defined as portable shelters, instant car garage, boat covers, truck/SUV garages, RV buildings, camper covers, good for motorcycles, salt storage, hay storage, instant smoking shelters, yard equipment, jet ski storage and anything else you see fit to put into one of our many temporary portable garage kits. Made to offer the ultimate in weather protection, Portable Garage Depot is committed to giving a quality product that is both durable and long lasting. Framing depending on the model is made from the best in powder coated or galvanized steel framing, with a heavy duty polyethylene cover that's both UV resistant and fire retardant, with wind brace supports where needed, to ensure your portable garage will protect your valuables with the best materials available.
Call Us @ 475-308-8477
Whether you're looking for a temporary smoking shelter, or a place to store your jet skis for the winter, Portable Garage Depot has the portable garage kit for you. Our instant garages can accommodate campers, motorcycles, cars, trucks, SUVs, boats, RVs, yard and lawn equipment and more. We offer Quonset (round) peak or house style instant garages for all space specifications you may have. Quonset, round style shelters are good for snow, sleet or rain runoff, while peak style portable garages are great for that extra space you may need on the sides with a higher center ridge height. Truss buildings offer maximum space and the same heavy duty construction to protect all that is important to you.
Most common sizes of our instant portable garages are:
12'W x 20'L x 8'H
12'W x 20'L x 10'H
14'W x 42'L x 14'H
22'W x 20'L x 10'H
Our portable temporary all weather garages are built to endure the tests of time and the elements, whatever they may be; sun, rain, sleet, snow. Heavy duty construction and easy to assemble instructions help to give you a product of the highest quality and best in structural stability. Our fabric components feature heat welded seam construction to ensure 100% waterproofing and protection for your car, truck, SUV, boat, motorcycle, workshop and whatever else you may see fit to store in one of Portable Garage Depot's temporary custom portable shelters and garages.
Your source for all weather, easy to build portable garages design kits, Portable Garage Depot has the design for you. From a compact car or boat, to outdoor equipment, agricultural needs, or an RV, we have an affordable design kit that will suit your needs. Our quality materials and easy to assemble instructions allows for our frame components to be assembled without compromising the structural integrity of our quality portable garage kits. They are made to assemble quickly and easily and last a lifetime.
All framing components are pre drilled and cut to your specifications, easy bolt together design helps get your portable garage easily up, or down, in the shortest time possible. Being a leading manufacturer's supplier of all weather, portable, multi purpose, garages, we want to offer you a variety of products, with a variety of different sizes and colors to accommodate your portable storage needs. We guarantee the lowest factory direct prices and highest quality and structural integrity. Cover everything valuable with temporary portable garages from Portable Garage Depot.
All garage products are available for shipping in Alabama, Alaska, Arizona, Arkansas, California, Colorado, Connecticut, Delaware, Florida, Georgia, Hawaii, Idaho, Illinois, Indiana, Iowa, Kansas, Kentucky, Louisiana, Maine, Maryland, Massachusetts, Michigan, Minnesota, Mississippi, Missouri, Montana, Nebraska, Nevada, New Hampshire, New Jersey, New Mexico, New York, North Carolina, North Dakota, Ohio, Oklahoma, Oregon, Pennsylvania, Rhode Island, South Carolina, South Dakota, Tennessee, Texas, Utah, Vermont, Virginia, Washington, West Virginia, Wisconsin and Wyoming.