Carport Kit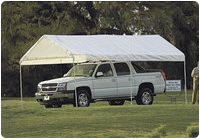 Carport kits have many uses that go far beyond the seasonal storage of cars, boats and campers. As Americans buy more and more things, storage space has become a very serious issue. As blended families and two income-two car families become the norm rather than a mere blip on the family radar screen, economy storage sheds are becoming a bigger part of the American household landscape.
Call Us Toll Free @ 475.308.8477
A 6'W x 12'L x 8'H carport kit from Portable Garage Depot, Inc. comes with a double zipper door on the front and rear sections, 1 3/8" diameter steel tubing. The carport anchors are included, and this shed weighs a mere 130 pounds. This small shed can store a small boat, lawn tractor, motorcycle or even a watercraft. It is designed to withstand harsh rainstorms, brutally cold winters and excessive summer heat. This type of shed is small enough so that it will not impact the curb appeal of a home yet is large enough to efficiently store a wide variety of items. These sheds are ideal for the active family, the home improvement maven or the family Green Thumb.
For the vintage car lover or recreational vehicle owner in your family, carport kits, much like portable sheds, are great gift ideas. For the recently retired person who has a residence in a warm weather state and another residence in a state with a noticeably colder climate, where and how to safely and cost effectively store their vehicles can be a vexing issue. Storing a vehicle in Florida while one spends the summer in another state can be very expensive – especially for a person living on a fixed income. The best solution to this frustrating problem is to install a carport. Carports come in a variety of colors, styles and prices. They are built to last a lifetime, all the while protecting your vehicle from rain, sleet and snow.