Portable Garage Canopies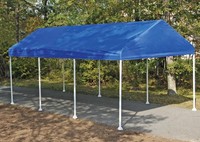 Do you park a vehicle or leave equipment outside uncovered? If you do, you are taking the risk of your investment being damaged by the elements of the outdoors. No matter the season, there are potentially-damaging elements that you need to protect your vehicles from.
Call Us @ 475-308-8477
Anything from a car to equipment can benefit from being protected by a portable garage canopy. Cheap and reliable, a portable garage canopy will provide your investments a place to stay safe from the elements. If left uncovered, your vehicle can be damaged by the sun's ultraviolet rays. The harmful UV rays can fade and ship paint, devaluing your vehicle. Letting your vehicle stay exposed to the rain may cause water damage and rust. If the water leaks into your car, the rugs and electrical equipment can be damaged. The body of the vehicle can rot and deteriorate from constant rain or snow exposure. Hail and sleet can be extremely damaging to the body of your vehicles, and a portable garage canopy can stop that damage from happening. Wind can kick up sand, break tree branches, and indirectly damage your investments. Portable garage canopies are enclosed on all four sides, providing maximum protection for your vehicle.
A portable garage canopy is great for every day and seasonal use. Protect a car or truck from daily sun exposure by parking them inside a portable garage canopy. Easy in and out access is another great reason to have a portable garage canopy. Never worry about clearing the snow off your vehicle again when you park it underneath a portable garage canopy. Some vehicles like boats and motorcycles are not used year round, however. Keep them inside a portable garage canopy in the off season to keep them maintained and not lose their value. You spent a lot of money on your vehicles, and it is worth spending a little more to ensure you preserve their value.
No matter how big or small the vehicle, store it in a portable garage canopy. Year round or season storage is made easy when you purchase a portable garage canopy.