Carport Designs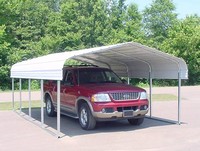 Not having a traditional garage or enough garage space can be incredibly inconvenient when you need to protect your car from the elements. If you have ever seen a carport before, you likely know just how convenient they can be when added to your home. Carports can be quickly set up and provide the covered parking that you need to protect your car from the sun, rain, snow, sleet, hail, and other elements. Carports are a solution that many homeowners turn to when they want to save the cost of adding a garage to their home but they don't want to compromise the condition of their vehicle. Carports come in a multitude of designs, so no matter which type you are searching for, you will be able to find it when shopping with Portable Garage Depot.
Call Us Toll Free @ 475.308.8477
Metal shelters are popular carport designs; it offers durability and can be installed permanently if you wish. Metal carports are made with durable galvanized steel that offers your vehicle protection through any type of weather and will be able to endure greater wear and tear than tarpaulin alternatives. Whether you want to set your metal carport in cement or use a less permanent means of stabilization, you will find that your metal carport stands up to the toughest weather.
If you live in an area that doesn't see too much detrimental weather you may want to consider a different design of carport. Canopy-style carport designs are made with tarpaulin covers and steel frames and offer great protection from the sun, rain, and snow. They are lightweight and simple to set up, and you will be good to go in no time at all. When you are searching for the perfect canopy carport for you, it is important that you know how many vehicles you will be parking beneath; this will help you choose a structure that is large enough and will offer the most protection. Canopy carports come in a wide variety of sizes, so whether you need to park a compact car or multiple large trucks, you will be able to find the amount shelter you need.
With so many different carport designs on the market, it may seem confusing to find the portable structure for you. By shopping with us, you will find that all of our carports are organized by size and type, so finding the right one will be a breeze. Start searching for your carport today and keep the investment that is your vehicle protected.