Portable Animal Shelter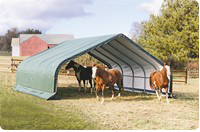 Portable Garage Depot offers the ultimate in all weather protection with plenty of affordable custom portable animal shelters. With a variety of styles and sizes, we have the temporary portable animal shelter solution for you. Horse shelters, livestock shelters, dog shelters, we have the custom shelter for your animals. Made with the ultimate in heavy duty construction components depending on the model offer powder coated or galvanized steel tubing to ensure protection against rust and corrosion with a UV resistant, fire retardant polyethylene with fabric backing and rip stop material for maximum protection against the elements.
Call Us @ 475-308-8477
Easy and detailed instructions make for easy assembly with our pre drilled and cut steel tubing with an easy bolt design to make assembly as simple and quick as possible, with the least amount of hand tools. Instant portable animal shelters offer the best protection against the harmful and direct effects of UV rays, rain, sleet, snow, wind, sap and bird droppings, on your pet or animal.
Great for those who don't want to invest in an expensive wood or metal structure when time is going to take its toll sooner than later. Portable Garage Depot carries temporary portable animal shelters that are protected by the best in polyethylene and rip stop material to give the best protection from the elements, and powder coated steel or double galvanized tubing for a strong sturdy construction to keep it standing in the harshest conditions. Affordable, heavy duty, long lasting materials and an easy bolt together design make assembly simple and mistake free, allowing for a longer life while maintaining structural stability.
Depending on your need, we offer a variety of different sizes, styles, and colors. Our custom animal shelters are good for animal breeders, run in sheds (for horses), and a whole lot more. You can get any size temporary shelter you see fit for your animal's situation. Let Portable Garage Depot cover your family's horses, dogs, pigs, kittens, hogs, or chickens with a custom portable animal shelter. We offer the best in all weather protection and strongest construction at the best factory direct prices around.