Carports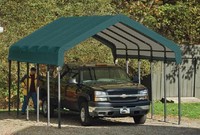 Not every home is designed with a garage, so why make your car suffer? Carports are a practical solution for covering your vehicle and protecting it from the rain and sun. Kits for carports allow the structure to be installed easily and, as soon as you have a defined place on your property, the structure can be installed.
Call Us Toll Free @ 475.308.8477
Carports come in two varieties. Metal carports are made entirely of galvanized steel, with the roof having a silicon coating. The natural properties of the steel keep out UV rays, moisture, and mildew. Polyethylene and metal carports are another option. These structures also have a galvanized steel frame, but the canopy portion is made from heavy-duty polyethylene that has been treated to be waterproof, UV resistant, and mold, mildew, and rot resistant. Metal carports generally have a lifespan of 20 years, but, if you ever plan to expand or enclose the carport, metal and polyethylene will meet your needs more.
A carport, no matter if you use it for sheltering your car or a seasonal vehicle, is designed to protect against snow – and won't collapse – and won't buckle in heavy winds. The key point, however, for having these qualities is installing the carport correctly. Although the shelter is designed to be portable, all carports must be secured into the ground. The legs can be set in concrete and then added, or purchasing an anchor kit and installing the anchors with the carport is another option.
Carports are used often for protecting everyday vehicles like cars and motorcycles, but they're also used for storing seasonal vehicles for several months at a time. While RVs and boats provide plenty of fun in warmer weather, they need to be stored once the temperature changes. A vehicle shouldn't be left directly outside, as the surface can experience damage from water and UV rays and may even start to have mildew or dry rot form. Instead, an enclosed carport will protect the vehicle from these elements and will let the vehicle have a longer lifespan.
While carports are common, many cities and towns have ordinances that specify locations and size restrictions for the shelters. In many areas, a carport may not be placed in front of a home; rather, the structure should be in the side or rear. Similarly, carports may be restricted to a certain size, such as 10 x 20 square feet, or a property may only be allowed to have one portable shelter.