Metal Portable Garages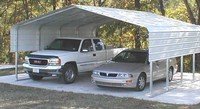 If you own a home without a garage or are living in a rental without one, metal portable garages offer you a great way to protect your car, jeep, truck or RV. At PortableGarageDepot.com, we have a large selection of metal portable garages at low prices that are easy to assemble and can be stored and transported with ease. Our metal portable garages are built with high quality heavy duty structural steel that insures they'll protect your vehicle from sun, wind, rain and even hail.
Call Us Toll Free @ 475.308.8477
When you purchase a metal portable garage, you avoid construction costs and won't have to hire a contractor to build one from scratch. Our metal portable garages come in a variety of styles that blend well with the design of your home. And, they come with garage covers in a range of colors, from clear to forest green. They also feature zippered front and rear door entries with an anchoring system that provides the security you need to protect your vehicle.
Another great benefit of metal portable garages is they keep your vehicle looking great. They're protected from all kinds of weather and retain their shine. Metal portable garages protect your car from hail storms that can batter the roof and cause severe dents. They also protect vehicles from cold weather that can freeze the engine and prevent vehicles from starting. They provide more than weather protection. With a metal portable garage you're also protected from pebbles thrown by passing cars and tree sap and bird manure that soils your vehicle's windshield and body.
Of course, one of the biggest benefits of our metal portable garages is cost. You don't pay for builders or expensive supplies like bricks and cement. You pay a small cost for the portable garage which you may be able to erect on your own. For more information on the best metal portable garage for you, call us toll-free at 800-984-7657. Our staff will be happy to help you select the model that will protect your vehicle at an affordable price. Our metal portable garages, built with high grade steel, blend the convenience of a portable garage with the stability of a sturdy metal structure that protects your vehicle from severe weather and other elements.