Steel Carports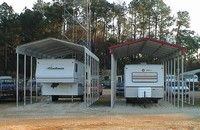 Steel is the basis for all portable carports. Each type of shelter, be it fully metal or a metal and polyethylene combination, begins with a galvanized steel frame. The frame, in this case, provides the shelter with its strength and stability. No matter the material used for the canopy, the steel frame for the carport can withstand several pounds of snow and winds up to 90 miles per hour. The frame, however, needs to be anchored into the ground to have these qualities.
Call Us @ 475-308-8477
Most steel carports are made from a combination of metal and polyethylene. These shelters have a galvanized steel frame, which has a lifespan of 10 to 15 years, and a polyethylene canopy. While the frame provides the strength, the canopy portion has other protective properties. Made from heavy-duty polyethylene, the canopy is treated to be waterproof, mildew resistant, UV resistant, and rot proof. Combining these two components together results in a shelter that can handle year-round extreme weather conditions.
Other steel carports are fully made of metal. With a galvanized steel frame and canopy, these shelters have a valance style with an overhang of 12 inches on each side. The canopy portion, however, is exposed directly to the elements and, because of this, has a silicon coating. The shelter, overall, has a lifespan of 15 to 20 years.
Part of the stability of steel frame carports comes from the shelter's innate strength and part comes from fully installing the shelter. Installation involves assembling the shelter and anchoring it into the ground. All kits for steel carports come with a set of anchors, and these are ideal for temporarily supporting the shelter. Metal carports, in particular, can become permanent, and, if this is your plan for the shelter, the legs should be set in concrete before the structure is added to the ground. Not anchoring the carport decreases the shelter's strength and increases its likelihood of collapsing.