Disaster Relief Shelters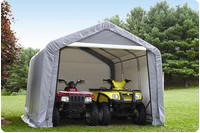 We have been sheltering families for extended periods of time for disaster relief efforts. Portable Garage Depot offers a wide variety of all weather resistant disaster relief shelters, tents, and storage shelters to aid in disaster relief efforts. Our temporary relief shelters can be used to shelter families, volunteers, pets and animals or be used for meetings, storage, temporary schooling, logistics, storage, and much more. All of our portable structures are for personal use, organizations and military (Army, Marines, Air Force, National Guard, Navy, Coast Guard) for disaster relief around the world.
Call Us Toll Free @ 475.308.8477
Our portable and temporary disaster relief shelters construction components are made with durable steel tubing for the ultimate in strength. A strong, tear resistant, UV resistant, fire retardant polyethylene with rip stop material and fabric backing covers the building giving our customers the ultimate in strength and protection from rain, sleet, snow, hail and wind.
With a wide variety of sizes, style, and colors, Portable Garage Depot guarantees to accommodate any type of portable building needed for your situation. Styles include Quonset (round), peak or house and truss style for maximum space and durability. Round style temporary portable shelters are great for rain, sleet, and hail or snow runoff, to keep that extra weight off of the structure. Peak and house styles offer the same runoff but give more space on the sides and a higher center ridge point. Truss style is our temporary big building, offering space for shelter, storage of relief equipment, trucks, medical supplies and anything else you may only be able to get in a bigger portable building.
Being a leading manufacturer and supplier of portable temporary disaster relief shelters, tents, and storage buildings during times of war, natural disasters or to aid the homeless, Portable Garage Depot can offer you the best Factory direct prices in times of crisis. Whether in need of one or multiple temporary shelters, we can supply you with the portable building or buildings needed for your situation. Protect groups of people (big or small), animals, equipment, trucks, tools or medical supplies in one of our many temporary disaster relief portable shelters.