Carport Plans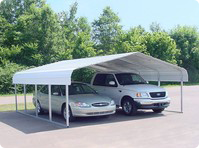 Many people, large organizations, and small businesses have been using carports to hold social functions and business meetings for a long time; carports are a great place to hold outdoor parties, wedding receptions, and business parties. Most carports are made with all-steel framing that uses 2" x 3" heavy 14 gauge triple layer galvanized steel tubing that is resistant to rust, fire, termites and rot. Each kit, as well, comes with a comprehensive set of carports plans. Carports come in wide assortment of styles, sizes, and prices; there are carports that can store up to three large vehicles.
Call Us Toll Free @ 475.308.8477
In addition to being utilized for social functions, large carports can also be used to store commercial coach buses, commercial farm equipment, and copious amounts of harvested vegetation. For example, the 18'Wx20'Lx10'H House Portable Garage comes with an All-steel Dupont™ Thermoset baked on powder-coated finish that protects the steel from chipping, peeling, rusting, and corroding. The Shelter Lock™ stabilizers provide a high level of strength and create a resilient carport frame. This carport also comes with universal steel foot plates in order to provide for better connectivity between the frame and ground anchors, cement, or pony walls. The bolt-together hardware that is added to every connection point allows for the highest level of strength and durability possible. This portable garage weighs 620 pounds and can store a wide variety of large vehicles.
These types of carports are designed to withstand long hot summers and brutally cold winters while keeping the stored items nice and warm. Carports are a cost effective way to store seasonally used items; carports are cheaper than renting storage sheds, a garage or a slip at a marina. A carport makes for a very sound, long term investment.