10x20 Portable Garage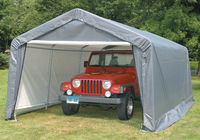 Are you in the market for a versatile portable garage? If so, you've come to the right place. At Portable Garage Depot, you can choose our most versatile portable garage yet, the 10x20! If you are looking for a portable garage that is much more than just an additional parking space or extra storage, then you need to get your hands on one of our many 10x20s. Not sure what other uses you could fulfill with a portable garage? Continue reading to find out!
Call Us @ 475-308-8477
First of all, the 10x20 size portable garage is perfect for cars, trucks, jeeps and SUV's alike. No other portable garage is so perfect for sheltering all of your different sized vehicles. If you're living in a household where a portable garage will be shared among drivers, the 10x20 portable garage is a must!
The 10x20 is also the perfect sized canopy. Take the walls off of your portable garage to utilize a portable canopy great for the patio or backyard. The 10x20 canopy is just big enough to add shade during outdoor parties but small enough to easily relocated and adjust.
Do you have a green thumb and pride yourself on your rather large home garden or nursery? 10x20 portable tents and garages are great for gardens or nurseries and are even better for setting up street side markets and tradeshows!
Tired of storing sport vehicles in the garage or shed? The nice thing about 10x20 portable garages is that they are a great size for storing sport vehicles like jet skis, quads, motorcycles, boats, snowmobiles, and lawnmowers. You can store all of your sport vehicles, personal watercrafts, and lawn maintenance tools in a 10x20, since this portable garage is wide enough to house vehicles side by side.
Start enjoying the benefits of such a versatile portable garage today by getting a 10x20 garage, tent, or shelter from Portable Garage Depot.