Portable Horse Shelters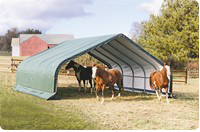 A leading source for affordable multi purpose portable horse shelters, Portable Garage Depot has the size, style and color to suit your needs. Offering 2 sided all weather run in sheds and 3 sided horse shelters and kits to accommodate your horses equine needs. Common size for our temporary horse shelter is 12'W x20'L x 8'H, able to fit two horses comfortably. Made from the best in corrosion resistant galvanized steel framing and wrapped in our wind, tear and UV resistant polyethylene rip stop material. Our temporary, multi purpose horse shelters can stand the test of time, and rigors of the environment to protect your horse and materials when needed.
Call Us Toll Free @ 475.308.8477
All of our temporary portable multi purpose building kits can be assembled and disassembled on any type of surface (sand, concrete, asphalt, mud, dirt or rocky terrain). We offer heavy duty anchors for any application. Detailed, easy to read instructions and easy bolt together design allows for simple assembly of our pre drilled and cut construction components. Get instant protection from the sun, snow, rain, wind, hail, sap, dirt, bird droppings and more. Standard horse shelters offer 4'ft rafter spacing.
Portable Garage Depot is an industry leader, with a massive product line and consumer friendly factory direct pricing. Our multiple purpose portable horse shelters offer the best alternative to conventional structures, and in many ways, are a superior choice when you consider our high quality materials and service. Allowing you to choose the perfect temporary horse structure for your situation whether personal or commercial, we have the portable horse shelters for you.
Common styles of portable horse shelters are Quonset (round), peak or house, and for the extreme equestrians we offer truss plate engineered style temporary big buildings. Good for horse shows, indoor portable riding arenas, and more, we have the shelter for you. Round style temporary shelter is good for rain, snow or hail runoff. While peak and house styles give you more space along the sides and a higher center ridge height. Portable Garage Depot offers an array of sizes to accommodate any of your equine needs.
We are a leading manufacturer's supplier of all temporary portable horse shelters, shed, run in sheds, portable stalls and more. Check out our long line of equine products for whatever the situation. Cover your horse with the best in multi purpose all weather portable horse shelters and kits from Portable Garage Depot.