Portable Garage Building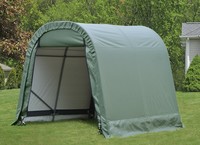 Portable garage buildings are an inexpensive and easy way to create extra storage space on your property. You can store a wide range of things in a portable garage building and can even use them as a workshop or gathering area. There are many different sizes and styles of portable garage buildings you can choose from so you can choose the one that best suits your needs.
Call Us Toll Free @ 475.308.8477
If you do not have a garage at your home or need more vehicle storage, a portable garage building is an inexpensive and reliable option. Portable garage buildings come in many different dimensions that will provide storage for anything from a car to a boat. Made with a powder coated steel frame and polyethylene cover, a portable garage building will protect its contents from any rain, wind, snow, or sunlight. The polyethylene cover is UV and water resistant, so your stored items will not be water or sun damaged.
You can store a car, truck, motorcycle, RV, boat, tools, or equipment in a portable garage building. Whether you need daily or seasonal storage, a portable garage building is your answer. Park your car inside, and you will not have to worry about the sun peeling or cracking the paint or having to brush the snow off your vehicle in the winter. You can keep equipment from rusting by housing it in a portable garage building. With optional accessories such as tool holders, utility shelves, and lighting, you can transform your portable garage building into a workshop.
Besides storage, you can use your portable garage building as a shelter for outdoor gatherings. Place tables and chairs inside to create a place for people to eat and relax. It can also be a place to use as shelter if there should be unexpected rain or to get some shade on a hot day. With an optional joining kit, you can put more than one portable garage building together to create even more space.
For a reasonably low price, a portable garage building provides multifunctional storage. Use a portable garage building for storing a vehicle, as a workshop, or for an outdoor gathering.