Carports Cover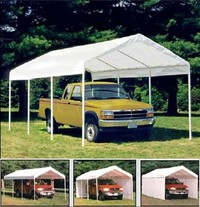 PortableGarageDepot.com is the industry leader in providing safe and secure carports with covers; we cover all of your outdoor carport needs. We have a wide selection of carport shelters that can be easily assembled and used for special outdoor events, commercial uses, and for protecting vehicles from dangerous weather. We guarantee high quality products with the lowest prices.
Call Us Toll Free @ 475.308.8477
We sell traditional carports along with a wide range of pop-up carports. Our multi-use carports with covers come in wide assortment of colors, styles and sizes. Carports cover a large amount of ground – about 30 by 50 square feet with our larger shelters – to effectively and safely store several big vehicles or provide cover for a large social gathering. These carports are ideal places to hold large wedding receptions, reunions, outdoor corporate meetings or any other event that is better off held outside. Customers can also purchase an enclosure kit that will insure complete protection from unexpected inclement weather. Our smaller, more traditional popup carports are great for picnics, small family gatherings and intimate outdoor romantic dinners. Best of all, the prices our canopies and popup carports have been drastically reduced.
In addition to our impressive lines of commercial grade canopies and popup carports, we also have a series of commercial size shelters. These larger carports with covers can be used for the protective seasonal storage of construction vehicles, commercial marine equipment including small fishing trawlers, large farm tractors as well as anything else that needs to be shielded from Mother Nature's nasty elements.
Lastly, at PortableGarageDepot.com we also sell a wide selection of metal carports. These ever popular carports can be used as temporary work stations or as covers for storing everything from wood to lawn furniture. They come in a wide variety of colors, shapes and sizes.