Portable Carports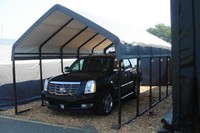 Carports haven't always been separate and independent shelters. In fact, many carports are built into homes. Coming off the side or back of the house, these structures are part of the framework, and while convenient at points for the homeowner, one only provides a limited amount of coverage. What if you have more than one vehicle needing shelter? What if the carport only covers part of your vehicle? If this sounds like your situation, consider a portable carport for your property.
Call Us @ 475-308-8477
Made from a galvanized or powder-coated steel frame and a polyethylene tarp, portable carports can be placed nearly anywhere on your property, assuming the location falls within standards set by local ordinances. Portable carports are also built in various sizes. While some are small enough to shelter a single car, others are built to cover more than one car or larger vehicles, such as RVs. Designed with a valance or enclosed canopy style, portable carports are strong enough to hold up against high winds and heavy snow.
The canopy portion of a carport provides a significant level of protection. Although the metal frame gives the shelter strength, the polyethylene canopy keeps out water and UV rays. Made from heavy-duty polyethylene, the canopy is treated to be waterproof, UV resistant, rot proof, and mildew resistant. Consistent exposure to water and UV rays gradually damages the surface of a vehicle over time, and a portable carport keeps these out and extends the lifespan of the vehicle.
Before purchasing a portable carport, local ordinances must be taken into consideration. Nearly all towns, cities, and neighborhoods have them, and while they vary from area to area, most restrict the size and location of portable shelters. Typically, a carport should not be built in front of a property; however, the side and back are generally acceptable locations. Similarly, carports and similar shelters should be no larger than two or three cars, and often only one shelter is allowed on a property.