Portable Carport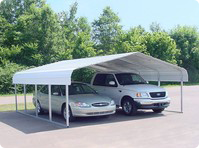 Build a temporary or permanent carport with one of our many affordable, Portable Garage Depot's carport building kits. We have carports to accommodate your car, truck, SUV, motorcycle, camper, boat, materials, or maybe a workshop, our wide selection of sizes and colors can get you the protection you need from the elements to keep your belongings in the best condition possible. We offer one or two car portable carport kits, along with kits that can fit your R.V or boat. We have the portable all weather solution for you.
Call Us Toll Free @ 475.308.8477
Our carport building kits aren't made only for your car, truck or boat. Anything can be stored in one of our portable storage buildings, whether materials, supplies, yard equipment, bikes, or other personal items, we have the space for you in one of our many carport and/or portable storage shelter design kits.
Our all weather carport kits come ready to assemble, with easy to read instructions and materials that assure you the ultimate in structural durability. All of our building kit frames depending on the structure are made of either powder coated or galvanized steel tubing for the ultimate in weather protection. The cover is made of the same UV resistant, fire retardant, polyethylene material we use on all of our all weather storage products. We use a rip stop material to avoid tears and wind brace supports to avoid blow overs onto your possessions.
Why leave your car, truck, SUV, motorcycle, camper, or other possessions out to be beaten by the elements. Portable Garage Depot has a carport design fit for you.
We are a leading manufacturer and supplier of portable building and carport kits. With the protection of our heavy duty construction, and polyethylene material to keep your investment safe from all weather conditions, we can accommodate you with any of your protection needs. We guarantee the lowest in factory direct prices and can accommodate you on any of your temporary portable carport building kits and weather protection needs. Cover it with a portable carport kit from Portable Garage Depot.