Instant Garage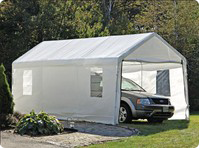 See our extensive list of affordable portable instant garages and other temporary instant storage shelters, of all sizes, colors and styles. Protect your car, truck, RV, camper, boat, custom motorcycle, seasonal equipment, patio equipment, tools, dry materials, and anything else you want to fit into one of our custom portable instant garage shelters. The cover is made of a UV resistant, fire retardant polyethylene with rip stop material and heated seams to assure maximum protection. All frames depending on the model are available with either powder coated or galvanized steel tubes, pre cut and drilled for easy assembly with the least mistakes, not taking away from your portable structures strength.
Call Us Toll Free @ 475.308.8477
Styles include Quonset round, peak or house and truss style portable instant car garage shelters for the ultimate in personal storage. Custom Quonset round style shelters are great for rain, sleet, and snow runoff to keep excessive weight off your custom car, truck, RV, or boat. Peak and house style offer added space for workshop materials, tools, yard equipment, and a lot more on the side with a high center ridge height. Allowing for easier rain, sleet, and hail and snow runoff when needed; truss style instant garage car shelters offer the most in space, with maximum strength in its construction to protect your valuables.
Portable Garage Depot offers the ultimate protection from dangerous UV rays, rain, acid rain, sleet, snow, sap, and bird feces, using a cover made from with our durable instant garage covers.
If you sell that car, truck or boat, maybe decide to keep it on the road, you can store anything and everything in one of our custom portable instant garage shelters. Cover your valuables with something affordable; let us offer you the best in factory direct prices while giving you the ultimate in strength and protection from the elements, with a portable instant garage from Portable Garage Depot.