Steel Carport Kits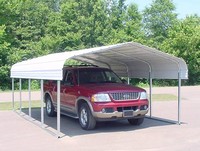 Steel carport kits are a notch above canopies and other carports. The steel frames make them especially durable and safe. The steel frames give these types of particular carports an added layer of protection against rust, foul weather and even corrosion.
Call Us @ 475-308-8477
The 12'Wx20'Lx8'H House Style Open Ended Carport is a perfect example of a steel carport kit that is ideal for use either on the personal or business level. This open ended carport makes it very easy to back in a boat or horse trailer. The frame is constructed from heavy duty structural steel and the covers are made out of waterproof, triple laminated polyethylene material that is made to last a very long time; the life expectancy for these types of high end, ultraviolet protected covers is anywhere from five to seven years. These structures have steel frames with sturdy four-foot spacing between the ribs or rafter supports. The waterproof cover will protect cars, boats, equipment and even groups of people from rain, sleet or snow. Additionally, this type of steel carport is more cost effective than renting a storage space or dry docking a boat at a marina.
The very essence of steel is that it is one of the most resilient materials on the face of the earth. Steel is used to hold up buildings, for the pilings in commercial grade high end housing projects and it is even used on the on the undercarriages of numerous cars and trucks.
Steel carport kits are a safe investment. Because they are built to last a long time, as the consumers' needs change, a steel carport can fit those changing needs. This unique carport is ideal for the temporary storage of a boat while it can also be used to hold a classy social gathering or a corporate event.