Carport Covers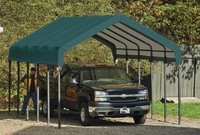 Many of the enclosed carports, including the popular 10'Wx16'Lx10'H House Portable Garage, that are currently being sold on PortableGargageDepot.com come with a main cover and zippered end panel doors that are made from advanced engineered, triple-layer, chemically heat bonded enhanced quality weave, rip-stop, waterproof, polyethylene cover. These carports are also ultraviolet-treated inside and out and they come with added fade blockers, anti-aging, anti-fungal agents which results in a highly durable fabric cover that can withstand even the most furious wrath of Mother Nature. The 10'Wx16'Lx10'H House Portable Garage is ideal for the long term storage of vintage or seasonally-used vehicles or boats; in addition, these carports are perfect for the temporary storage of farm equipment or for protecting construction debris from rain or snow.
Call Us Toll Free @ 475.308.8477
Portable shelters that come with metal carport covers are generally less expensive than full y enclosed carports. The siding for metal carports is an optional feature. However, these carports will still provide consumers' vehicles with a safe and secure place to store their cars. Instead of renting an expensive storage place or having a contractor build a garage, a metal carport can be easily assembled on the owner's property. This will give the owner of the vehicle peace of mind in that he or she can freely access their vehicle(s) at any time. A metal carport is the ideal solution for sheltering cars, boats or even for temporarily protecting other pieces of equipment from the elements. Metal carports can also be used for small outdoor social gatherings and for providing temporary shade for riding horses.
Enclosed structures with polyethylene covers and metal carports are an affordable and sensible investment for consumers who have vehicles that need either long or short term shelter. These types of carports come in a variety of styles, sizes and price ranges.