Canopy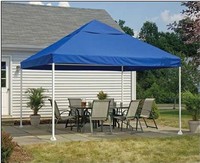 Versatility for outdoor storage comes in the form of a canopy. Nearly any investment or item can be stored inside such a shelter. From cars to seasonal vehicles, the storage possibilities are practically endless. Once a canopy has been erected on your property, it will protect any object underneath from moisture, UV exposure, mildew, and dry rot, wind, and snow.
Call Us Toll Free @ 475.308.8477
A basic canopy tent, such as a carport or portable garage, is constructed from a galvanized steel frame and a heavy-duty polyethylene top. While the strength of the frame allows the structure to withstand heavy winds and snow, the canopy portion keeps out moisture and UV rays. The heavy-duty polyethylene material is treated to be waterproof, UV resistant, and mold, mildew, and rot resistant. The shelter also allows for air circulation, which prevents mildew and dry rot from forming on the object in storage.
The typical use for a canopy is as a carport. This open car canopy protects the vehicle from moisture, UV rays, snow, and rain. The structure, however, needs to be installed into the ground for full coverage. Recommended installation is setting the legs into concrete and then installing them into the ground. This way, the shelter won't cave in or collapse if snow or rain accumulates on the roof.
A canopy is often designed as an open or enclosed structure, although the materials used are the same for each. The latter is more common when seasonal vehicles are being covered. Seasonal vehicles, such as boats and RVs, need protection from moisture and UV rays, too. In fact, leaving these vehicles outdoors for several months at a time, exposed to the elements, will shorten their lifespan. An enclosed canopy will keep the UV rays from fading the surface and damaging interior components and will also keep out moisture and mildew, both of which can also damage the surface of a seasonal vehicle.
Another type of canopy is a pop-up tent. Similar in name only, a pop-up canopy is used for temporary protection outdoors. This type of canopy consists of a powder-coated steel frame and a polyester top, which has been treated to be waterproof and UV resistant. These shelters easily fold out to provide shade and shelter and, because of their lightweight design, can be transported anywhere. The beach, trade shows, parties, and flea markets are common locations in which a pop-up canopy is needed.