Portable Garage Tent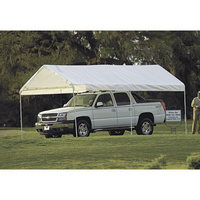 You just received your portable garage tent, and you can't wait to set it up! Even though there are wonderful, easy to follow direction included to help you with set up, take a look at these tips before you go ripping through materials. Set up for a portable garage tent is easy but you'll be even more prepared by following these tips. Make sure you know exactly what you're getting yourself into.
Call Us Toll Free @ 475.308.8477
Before you start pulling out parts, make sure that you grab a building buddy. Even though set up of your portable garage tent is easy, parts can be heavy and awkward to handle on your own. You don't want to drop, bend, or damage any parts, so make sure you have a friend with you. Nothing would be worse than damaging your portable garage tent during set up.
Once you have your building buddy, you need to decide on the best place to build you garage tent. You may have already decided on where you want the tent to be; however, have you checked to make sure the ground is level in this location? If the ground isn't level, you should not build your portable garage in said location. If you do, your garage will be at risk of serious damage and so will whatever you store inside. Also, you don't want to build your portable garage only to have it lean dangerously due to un-level ground. Save yourself the hassle and extra work by checking ground levels before you start to build.
Last but not least, consider the location of your portable garage and the contents it will be protecting. If you're using your portable garage tent to shelter your vehicle, make sure that you can easily exit and enter the garage on a daily basis. If you are storing feed or gear, perhaps you should build the garage tent close to the location where you will need these supplies. No matter where you decide to build your portable garage tent, always make sure there is a safe route to and from the garage. Take into account harsh weather before building a portable garage tent too far from the house.