Replacement Portable Garage Covers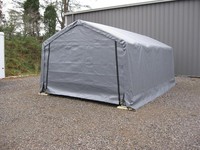 Portable garages come with a polyethylene cover that is resistant to ultraviolet rays and water. The cover is very hard to rip, but sometimes it is possible for damage to occur. The average lifespan of a portable garage cover is five to 10 years. If you need a new cover, you can purchase replacement portable garage covers online at the Portable Garage Depot website.
Call Us Toll Free @ 475.308.8477
The steel frame of a portable garage from Portable Garage Depot is powder coated to protect it from rust and corrosion. The steel is heavy duty and is built to last. It is very unlikely that the frame will ever need to be replaced, however the cover might need to be.
While the polyethylene cover is very strong and unlikely to deteriorate, it is possible you may need to replace it. Over time, you made to need invest in a replacement portable garage cover. In the event that you might lose the cover when moving or it gets ruined from some freak accident, you can go online to purchase a replacement cover from Portable Garage Depot.
When purchasing a replacement cover, make sure to get the correct size and style needed for your portable garage. There are no returns on replacement covers, so double check your order or you will be stuck with a replacement cover that you can't do anything with. You can also purchase a replacement cover if you want a new color or added accessories. Replacement portable garage covers are not that expensive and their price is based upon size and style.
While it is very unlikely that your portable garage cover will ever need to be replaced, anything can happen. If you have had your portable garage for over 10 years, you may want to replace the cover to continue to provide your possessions with the best protection. Look online at the Portable Garage Depot website to find the replacement portable garage cover you need.