Portable Garage Buildings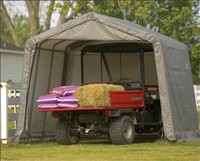 Portable garage buildings can be used to hold wedding receptions, picnics, corporate outings and even small intimate dinners. These types of structures are affordable, durable and weather resistant. Portable garage buildings come in a wide array of sizes, shapes, colors and price ranges. These types of unique buildings can be used in a multiplicity of ways and they have numerous functionalities. A popular way that many people use these types of structures is for holding corporate events. They can be set up on golf courses, picnic areas or even used for a picturesque dinner party.
Call Us Toll Free @ 475.308.8477
With their lightweight design and easy to assemble and disassemble functionality, canopies have numerous uses. They are great for providing shade on the beach, shelter for evening dinners; cover for registration desks and for camp sites. For example, a 10x20 Decorative Canopy comes with 3/8" diameter white powder-coated steel tubing, 8 legs - (4) Foot Plates-white & temporary spike anchors, a slip-fit connection design for easy assembly and a 300 Denier water-repellent polyester, ultraviolet treated cover that is available in blue, green, or black color. It weighs a mere 89 pounds and it also comes with a durable nylon carry bag. The nylon bag is a very convenient tool for traveling with this particular type of decorative canopy; it can hold all of the parts for the canopy and there is even a little extra room for a few tools. This ability to easily transport this canopy is ideal for families on the go, families who enjoy spending time in the outdoors and for those folks with seasonally used homes.
All manufacturer warranties are available upon request before any purchase. On the website we have pictures of our carports, canopies, shelters as well as our shipping and refund policies.