Custom Boat Covers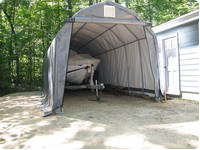 Portable Garage Depot offers an assortment of boat covers, temporary boat garages and boat slip covers, to protect your boat from the environment while on the water. We offer a variety of colors and sizes to make your purchase a gratifying one. Our custom boat frames are made of the same powder coated steel or galvanized steel tubing depending on the model. Our frames are protected by UV resistant, fire retardant polyethylene covers with fabric backing and rip stop material that we use on all our products, to ensure the ultimate in protection against harsh weather conditions. Heat welded seams allows for ultimate waterproofing.
Call Us @ 475-308-8477
Custom portable boat buildings are a must for those who would like to stay away from the repercussions of leaving your boat out in the open. Affordable, easy to assemble instructions, pre drilled and cut to custom specifications, along with materials that keep your investment safe from the elements; sun, rain, sleet, snow, etc. Portable Garage Depot has the custom boat cover that will suit your needs. Our temporary storage buildings can be assembled and disassembled in no time for storage while not in use.
The round roof style makes for easy rain, sleet or snow runoff. We also offer peak, house and truss style portable buildings to suit any of your storage needs, along with the protection of our heavy duty construction, and polyethylene material to keep your investment safe from all weather conditions, we can accommodate you with any of your protection needs with our custom boat slip covers and temporary portable buildings.
With powder coated or galvanized steel framing, a variety of colors and sizes, we make your purchase as comfortable and easy as possible. We guarantee the lowest factory direct prices for the maximum in weather protection with our custom storage boat buildings and slip covers. A leading supplier of portable garages, buildings and shelters, Portable Garage Depot has the temporary boat shelter you're looking for. Cover it with an all weather portable boat storage cover from Portable Garage Depot.