Shelter Logic Portable Garage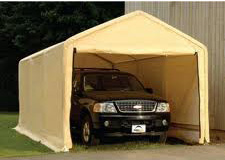 Shelter Logic is a leading company in the canopy industry. They manufacture many different types of canopy shelters that people can use to protect their possessions from being damaged by outdoor elements. Shelter Logic makes carports, portable garages, and pop-up tents, many of which are offered at Portable Garage Depot. The Shelter Logic portable garage is a great way to provide protection for your car, truck, or other vehicle.
Call Us Toll Free @ 475.308.8477
Shelter Logic has several lines of portable shelters. They offer their Retail Packaged Shelters that includes portable garages, carports, sheds, and greenhouses. The Shelter Logic Portable Garage comes with a steel frame that is powder coated to protect it from rust and corrosion. The cover is made from a triple layer polyethylene material that is resistant to ultraviolet rays and water. Shelter Logic portable garages come in many different styles and sizes. There are Shelter Logic portable garages that can fit a motorcycle, one car, multiple cars, an RV, or even a boat.
A portable garage may be outside for a few months or even the whole year. If you plan on using your Shelter Logic portable garage year-round, you may want to purchase one from the Pro Grande Galvanized line. This line of Shelter Logic portable garages comes with galvanized and zinc plated steel frame. Shelter Logic's strongest frame and polyethylene cover will be your best option when using your portable garage every day of the year.
A Shelter Logic portable garage is a great way to provide protection for your car, truck, motorcycle, or boat. However, they can store any of your possessions that you might need to keep outside. Equipment, toys, holiday decorations, and any other things you do not want to keep inside can be stored in your Shelter Logic portable garage.
Shelter Logic also manufactures pop-up tents that you can use to provide shade or shelter from rain at your home. Great for outdoor parties, a pop up tent is quick and easy to set up and take down. Just like the portable garages, a pop up tent has a powder coated steel frame and has a polyester cover that is treated to be UV and water resistant.
Check out all of the products offered by Shelter Logic. A Shelter Logic portable garage will provide your possessions with the best protection at an inexpensive price. Do not let the value of your investments depreciate; instead, keep them protected with a Shelter Logic portable garage.