Smoking Shelters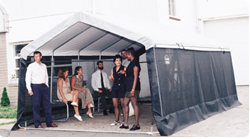 Portable Garage Depot offers the ultimate in affordable alternative portable smoking shelter for those who want to smoke, but can't do so indoors. Our portable, wind resistant smoking shelters are perfect for just that, designated outdoor smoking areas. Made from the strongest galvanized steel framing, our smoking shelters are wrapped in a tear and UV resistant, fire retardant polyethylene rip stop material with fabric backing, to ensure maximum protection against the elements and corrosion.
Call Us @ 475-308-8477
For the company that cares for the smoking as well as non smoking employees, we have the portable temporary shelter to keep all your employees happy. Also good for outdoor meetings, lunches, gatherings or just to hang out away from the rain, sleet, hail, or snow. We are a leading supplier of all weather multi-purpose portable shelters, allowing you to purchase a building that is suitable for your needs.
Our detailed instructions and pre drilled and cut construction components allow for simple assembly or relocation in minimal time with an easy bolt together setup, minimal hand tools are required. Common styles used for portable smoking shelters are Quonset round and peak or house style temporary tents, canopies or shelters. Both allow for simple runoff of rain, sleet, snow, acid rain, sap and bird droppings. Peak and house styles offer more room for chairs, tables, ashtrays and more. Peak and house style portable smoking shelters offer extra space along the sides and a higher center ridge height, for gatherings, smoking and much more.
A huge variety of sizes, colors and styles, we have the temporary smoking shelter kit for your situation. Materials made to be wind, UV ray, and tear resistant, framing made to stand strong make for the ultimate protection against the elements. Being manufacturer's supplier allows for the lowest in factory direct prices along with a selection that will guarantee you the right choice for your money. Cover employees, family, friends, or guests, in a portable, affordable, temporary smoking shelter from Portable Garage Depot.