Green Houses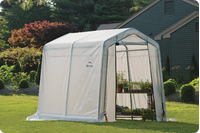 Build a quality commercial portable greenhouse with temporary building plans from Portable Garage Depot. For the average horticulturalist or the hobbyist just learning, we offer portable greenhouses and mini greenhouse kits in a variety of colors, sizes and styles for you to choose from. Styles include Quonset (round), peak or house. Portable Garage Depot offers temporary greenhouse plans to aid in early growing in the spring and longer growing time into the winter. Zipper vents and doors, allows easy access and ventilation for proper care of your plants. We also offer various mini greenhouse kits, indoor, outdoor, residential or commercial to suit your horticulturist needs.
Call Us Toll Free @ 475.308.8477
Our commercial greenhouse plans are perfect for those looking for a cheap inexpensive way to cover their plants. Detailed instructions and an easy bolt design allow for simple construction and relocation if needed. Get it done in minimal time with minimal hand tools without taking away from the building's strength. All of our temporary buildings have framing made of durable steel tubing and covered by a UV, wind, rain and tear resistant, polyethylene rip stop material for maximum protection against the elements. Standard greenhouses have 4,' rafter spacing, we also supply 2' foot spacing if necessary.
Everything we offer is to make sure you get exactly what it is you were looking for when you chose this site to find a temporary greenhouse kit for residential or commercial purposes. Let Portable Garage Depot assist you in finding commercial greenhouse plans that fit your needs. A leading manufacturer's supplier of commercial portable products, we guarantee the lowest of factory direct prices. To help make for a quality experience while using Portable Garage Depot as your number one source for temporary and portable building kits, shelters, greenhouses, mini greenhouses, or storage structures. Cover it with the best portable buildings on the market.