Party Tents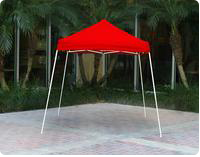 Being a leading source in affordable, multi purpose outdoor portable party tents, Portable Garage Depot has the structure for you. Great for backyard parties, barbeques, outdoor reunions, or just hanging out away from the party, our portable outdoor party tents and canopies will give you the protection you need to keep your guests dry and happy, whether enjoying the weather or trying to get away from it. Portable backyard party tents come in a variety of colors. With side walls that can be quickly removed for events like flea market vending and trade shows, while still maintaining overhead protection.
Call Us Toll Free @ 475.308.8477
We have a vast selection of affordable, wind resistant temporary and easy to assemble portable party tents, decorative canopies and shelters, to suit your needs. The heavy duty framing components are made with attractive painted powder coated steel tubing. The cover is made with a wind resistant polyethylene material with fabric backing to ensure longer life for future parties or outdoor gatherings. Construction components are pre cut and drilled to allow our easy bolt together design to aid you in simple construction. Allowing for a simple assembly in minimal time with minimal hand tools, while not taking away from the structural integrity of our products.
Depending on your situation, Portable Garage Depot wants to aid you in finding the perfect temporary multi purpose portable party tents, shelters and canopies for your party or outdoor function. The common style for attractive portable party tents is our peak or house style temporary party tents and canopies. Detachable walls are easily attached using heavy duty Velcro straps and grounded by the best of heavy duty anchors. for the ultimate in sturdy, wind resistant, portable party structures., with easy access from either end with our easy zipper door with bottom pocket. Peak or house styles allow for easy runoff of rain, sleet, snow, hail and anything else Mother Nature throws at us. You get more space on the sides and a higher center ridge height to allow for more tables, chairs, guests or entertainment equipment to keep your guests happy.
Cover your party guests with an affordable portable multi purpose outdoor party tent, canopy or shelter from Portable Garage Depot. A leading source for attaining portable, wind resistant, heavy duty temporary party tents, canopies and shelters. We offer the lowest prices when buying factory direct. Let us cover it for you.