Portable Garage Canopy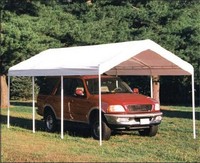 So you're thinking about purchasing a portable garage canopy, but you can't but think, will it be worth the price? Will the car be safe under it? A lot of questions are running through your mind, so lets us tell you that a portable garage serves as much more than a carport. If you're worried about getting your money's worth, put your worries to rest, because portable garages are much more than carports.
Call Us @ 475-308-8477
First and foremost, portable garage canopies are great for added storage. If you don't feel comfortable parking your car underneath a portable garage, then store whatever you are keeping in your permanent garage in the portable one. With all of your storage in the portable garage, your car will have its rightful spot back! Or, maybe you have a child who is coming home from college; store all of his or her things in the portable garage canopy until the next semester!
Do you have any off-road toys like jet skis, snowmobiles, or ATVs? If so, a portable garage canopy is the perfect place to store your big kid toys. Protect your power sports from weather damage of being stored outside, or free up much needed garage space by moving them from your permanent garage to the portable one. A portable garage will keep your sport vehicles safe until its time to take them for a spin.
Maybe you don't have a need for extra storage or sport vehicle protection. Do you live on a farm and need extra space for storage of feed and gear? Portable garage canopies are great for this exact purpose. You can even use a portable garage canopy to provide shelter for your animals when they are out of the barn.
Purchasing a portable garage canopy could be one of the best investments you've ever made. We guarantee that you'll find many uses for it beyond what we have listed here.