Portable Garage Carports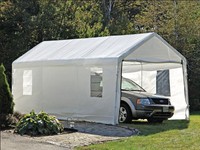 If you have a vehicle that you leave outside, you are exposing it to the harmful elements of the weather every day. Any vehicle, whether it is a car, truck, motorcycle, or RV, can be damaged by the weather if it is not properly protected. By purchasing a portable garage carport, you can protect your vehicle from all of the dangers of the outdoors.
Call Us @ 475-308-8477
Vehicles that are left outdoors uncovered are subject to rain, snow, hail, wind, and the sun. If left unprotected, the investment greatly loses its value. A portable garage carport is an inexpensive and effective way to provide protection for your vehicle of any size. There are many different size portable garage carports that are designed specifically for different types of vehicles. There are smaller portable garage carports that you can store your motorcycle, dirt bike, ATV, or lawnmower and yard equipment. You can choose from portable garage carports that can fit a car, truck, or multiple vehicles in. There are also portable garage carports that are large enough for an RV, boat, or tractor trailer. There are even commercial-size valence style carports that provide protection for several vehicles.
A portable garage carport is made from a heavy-duty steel frame and a polyethylene cover. The steel frame provides a sturdy base that will not be toppled over by strong winds. The triple laminated polyethylene tarp is both ultraviolet ray and water resistant. The cover will make sure your vehicles are protected from the sun's harmful UV rays that can crack and fade paint. It will also keep your vehicles dry, so they will not rust or succumb to any water damage.
Never worry about your vehicles being damaged by any of weather's elements again after you purchase a portable garage carport. With so many different sizes and style, there is a portable garage carport that will best fit your needs.