Metal RV Carports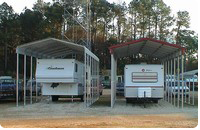 A 30'W x 24.5'L x 10'H Metal Carport is a perfect example of a carport that can be used in a variety of ways. First and foremost, metal RV carports can be used to store a large recreation vehicle, a big boat or a series of small cars. While this is one of the larger carports, it is still small enough to be installed on the grounds of a house, farm, hotel complex or storage facility.
Call Us @ 475-308-8477
The silicone coating on the 30'W x 24.5'L x 10'H Metal Carport will not require frequent paint or attract termites; the silicon coating on the roof of this super-sized carport comes with a 20-year, limited warranty. This warranty covers workmanship and material quality. The complete kits include all framing and hardware, plus the painted steel roofing, the vinyl trim, and the butyl caulk tape. The ground anchors are included; they are made with 67 percent recycled steel. Additional siding can be purchased so the carport is completely enclosed. These carport kits can be assembled in a few hours; professional help with installation is available in select states. These carports are built to last a lifetime and withstand all kinds of harsh weather.
The sheer size of this metal carport lends itself to not only storing a wide assortment of large vehicles but they can also be used to house piles of wood, construction debris, farm tractors, sports equipment and they can even be used to provide a shady place for farm animals. Some people have also used these types of large carports to hold social gatherings like picnics, receptions or cocktail parties. After investing a decent amount of money in an expensive recreational vehicle or a large farm tractor, it makes further sense to protect said investment with a sturdy carport. A well-made and properly installed carport will prolong the life of any camper, truck or watercraft.