Portable Boat Garage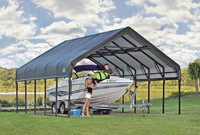 A portable boat garage is a much better option than dry docking or renting a slip at a marina. These types of structures are as easy to assemble as they are to disassemble; they come in a wide variety of sizes, colors and styles. They are built to withstand harsh rains, high winds, blistering heat waves, and heavy snow falls.
Call Us @ 475-308-8477
The ever-popular 14'Wx48'Lx12'H Round Portable Garage comes with the following components: An All-steel Dupont thermoset baked on powder-coated finish that prevents chipping, peeling, rust and corrosion; a durable Rhino Shield in which every frame tube and connector goes through a proprietary thirteen step Rhino Shield surface preparation process; a series of state of the art ShelterLock stabilizers that will ensure rock solid stability; a set of universal steel foot plates for easy and solid connection to ground anchors, cement or pony walls; bolt-together hardware at every connection point that will ensure maximum strength and durability; and, lastly, swedged tubing for slip-together easy assembly in which no drilling or field cutting is required. The wind braces are also included with this portable garage.
Not only will an enclosed portable boat garage protect your boat, truck or bus from exposure to snow or rain, in the long run, purchasing a carport will prove to be less expensive than having to pay annual storage fees. Over the long run, paying a high monthly fee to a dry dock operator or to rent on a slip at a marina will be more expensive than purchasing a portable boat garage. Boat owners will also have the added luxury of being able to safely and securely park their prized possession on their own property. A portable boat garage is a cost effective solution to the vexing issue of where and how to winterize a sailboat or power boat.