Portable Shelters for Sale: Portable Shelters, Carports, Canopies, & More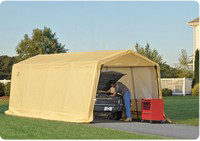 Portable Garage Depot is your number one sources for affordable custom all weather temporary portable shelters. Shelters for cars, trucks, boats, motorcycles, campers and RV's, ATV's, horse and animal shelters, run in sheds, greenhouses, and anything that needs all weather protection. Providing shelter during outdoor events, barbecues, parties, meetings, whatever it may be, we have a custom portable shelter building to suit your needs and protect you and your loved ones from the elements. All of our custom temporary shelter frames are made of the same heavy duty; powder coated or galvanized steel tubing, covered by our UV resistant, fire retardant polyethylene cover with fabric backing and rip stop material for ultimate durability against the sun, rain, sleet, snow and wind.
Call Us Toll Free @ 475.308.8477
A variety of colors, styles and sizes allows for an affordable selection that will fit your needs to the end. Styles include Quonset round, peak or house, and truss style buildings for the ultimate in space and structural strength. Round style temporary shelters are great for rain, sleet, and hail or snow runoff to keep the load off of your custom portable building. Peak and house style buildings offer extra space on the sides and a high center ridge height. Truss style temporary storage buildings offer the most space and storage capacity. With all styles you have the option of easy zipper access and drive or walk through capability.
So whether you need a temporary riding arena, dry storage for hay, grain, sand or salt, or a place to get your possessions out of the rain or snow, Portable Garage Depot has a temporary portable storage shelter solution for you. Our easy to read, full detail instructions allow for easy construction with easy bolt together design and pre drilled and cut framework, assembly is fast and easy without compromising structural integrity.
We are a leading manufacturer and supplier of portable shelter solutions, so we are able to give the best in factory direct pricing and a variety of style, colors and sizes to give you exactly what you are looking for in temporary shelter. We have the portable shelter solution for you; cover it with a heavy duty temporary building from Portable Garage Depot.