Small Portable Garage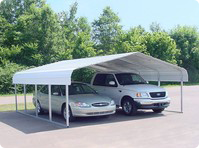 There are numerous uses for a small portable garage; they can be used to store sports equipment, small lawn tractors, garden tools, jet skis and even small sports cars. These types of shelters are durable, affordable and as easy to install as they are to uninstall. For the active family, with several children involved in several different sports a small portable garage is an ideal place to keep bags of soccer balls, football equipment, and numerous other items.
Call Us @ 475-308-8477
The 12'W x 20'L x 7'H Metal Carport sold at PortableGarageDepot retails for $ 1830.00; by most accounts, the price for storing a vehicle runs from about $100 to $150.00 per month. Twelve months after purchasing metal carport, consumers will be saving themselves money on storage. The metal cover that comes with this specific carport is made out of 29 Gauge Steel, with an 80,000-PSI yield strength minimum.
For the small business owner, small portable sheds can be utilized in a wide array of methods; they can be used as shelter to temporarily store food and for cooking. For someone who owns a catering company, a portable shelter is a very sound investment; especially if the catering company gets hired to cater numerous outdoor weddings, receptions, or other social gatherings. In this regard, a portable shelter can be set up to temporarily store large quantities of perishable food, cooking equipment, or even tables and chairs. In order to prevent a sudden, serious financial loss, keeping food and equipment safe from sudden rain or excessive heat is a very cost effective way to run a catering business. A six or eight foot wide 10-foot wide portable storage shed would be ideal for just about any catering company.
These types of structures are built to with the worst of Mother Nature: frigid temperatures, extreme heat, torrential rains and gusty winds.