Portable Garages for Sale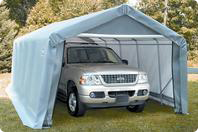 Do you want to protect your vehicle from extreme weather? Do you want shelter for farm animals? Do you want a convenient place to store a boat? Do you want a portable greenhouse? If you answered yes to one or more of these questions, a portable garage is for you, and Portablegaragedepot.com offers a wide range of easy to install shelters that protect your investments from extreme weather and other elements. We offer portable garages for sale with heavy-duty structural steel frames, double zipper front door entries with waterproof covers that offer protection for your cars, trucks, motorcycles and RVs from all kinds of extreme weather.
Call Us @ 475-308-8477
We also have canopies and carport shelters in a wide variety of colors and sizes for all purpose outdoor uses. Our custom garage and carport frames are made of powder coated or galvanized steel tubing with garage covers made from Polyethylene with rip stop covers. These canopies feature water-repellant polyester fabric and are treated to resist harmful UV rays and even mildew.
Our portable garage shelters are also ideal for boats, with a wide selection of sizes and colors to custom fit your boat. The shelters have plenty of room for boats, boat trailers, sails, motors, dinghies and other boat accessories.
You can protect your farm animals and pets in our sturdy kennels, and run-in sheds and hay storage shelters keep animals and stock safe from heavy wind, rain, and snow. These structures are ideal for horses and livestock and make great dog kennels, too.
We also offer sturdy portable greenhouses that protect your flowers, trees and plants. These mini backyard greenhouse kits are made of heavy duty structural steel frames that can withstand high winds and heavy rain so your indoor garden stays well protected from the elements. As you can see, Portablegaragedepot.com offers a variety of portable garages for sale, all at affordable prices that provide an economical way to protect your valuables from wind, rain, snow, heat and hail.
Call 475-308-8477 today for more information. Let us help you choose an easy to install portable garage that will accentuate your home with the protection you need for your vehicles, animals, plants and other valuables.