Prefab Carport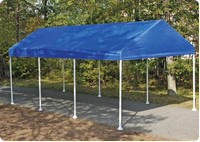 Instead of having to draw up plans and hire a contractor to build a sturdy carport, a prefab carport is a more cost effective solution. Prefab carport kits come with detailed instructions and all of the material one would need to assemble and install a carport. In addition to the instructions and the materials, prefab carports also come with manufacturer's warrantees.
Call Us @ 475-308-8477
The 10'Wx18'Lx8'H 12.5 ounce Round Deluxe Carport is a perfect example of a prefab carport. It comes with the steel frame, a waterproof cover and a 4' Wide White SolarGuard Skylight; the cover and Skylight come with a 15 year manufacturer's warranty and there is a three year manufacturer's warranty which covers the steel frame and other parts. The cover is also treated with a chemical that makes it ultra violet ray resistant. This type of carport is ideal for the storage of a compact car, a small boat, an All Terrain Vehicle, watercraft or lawnmower. This type of all weather carport can also be used to store firewood, sports equipment and many other different types of things.
Dealing with architects, contractors, subcontractors and suppliers can mean nothing but wasted time, money and unwanted aggravation. By purchasing a prefab carport, you will have all of the materials at the ready. Better yet, once the material for the carport arrives then your contractor can assemble and install the carport in a matter of a few hours.
The combination of a prefab carport and a knowledgeable contractor will make assembling and installing a small or even large commercial grade carport a fairly hassle free endeavor. Once the carport has been installed, then the owner can look forward to a lifetime of having a safe and secure carport. An investment in a carport is a very wise choice that will continue to pay dividends for many years.