Portable Metal Carports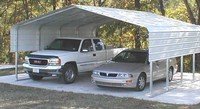 Portable metal carports are a great way to protect your car, boat, livestock or even guests from bad weather. Most metal carports are very easy to assemble and less expensive than renting space on a vehicle storage lot. For instance, the 12'W x 20'L x 7'H Metal Carport sold at PortableGarageDepot.com retails for $1,830.00; by most accounts, the price for storing a vehicle runs from about $100 to $150 per month. Twelve months after purchasing metal carport, consumers will be saving themselves money. The metal cover that comes with this specific carport is made out of 29 Gauge Steel, with an 80,000-PSI yield strength minimum. This metal covering will protect your car, boat, recreational vehicle or even dinner guest s from rain, sleet, snow and excessive exposure to ultra violet rays.
Call Us @ 475-308-8477
Most metal carports are multi-functional pieces of equipment. In addition to providing shelter for cars and other vehicles, they can be used to hold small dinner parties, house food tables and bars at social events and even for elaborate picnics. Many high end catering companies, golf courses and corporate event planners use carports for their activities. They are safe, secure, easy to assemble as they are to disassemble and best of all, consumers will see a relatively quick return on their investment.
Along these same lines but a little less expensive but more portable are canopies. Unlike a metal carport, a pop up canopy is not anchored into the ground but they come with temporary spike anchors for better stability. These decorative canopies can be used on the beach, at the campground and even on the tennis court. The 8x8 Slant Leg Pop-up Canopy is ideal for the family that loves the beach, enjoys camping and spends a great deal of time in the outdoors. This type of canopy can be dissembled and conveniently stored in a durable nylon bag; this bag comes with the purchase of the canopy. The polyester covers are available in white, red, green, blue, black, Desert Bronze, or Checkered Flag.