Best Portable Garage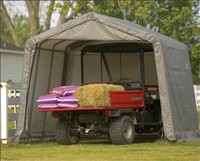 You need a portable garage, but you don't want to settle for just anything. If you're going to protect your investments, you want to have the very best protection, right? If so, then you're probably wondering what shelter is the best portable garage. Well, sorry to burst your bubble, but comparing portable garages is like comparing apples to oranges. Since there are so many types of portable garages, the questions shouldn't be "What is the best portable garage?" but rather, "What is the best portable garage for me?"
Call Us @ 475-308-8477
If you want a portable garage for the most common reason, to protect your vehicle, then you need to know that Portable Garage Depot has an excellent garage specifically designed for said purpose. Our portable garages are built with heavy-duty waterproof and industrial strength coverings. Under these industrial coverings is a solid steel frame. A double zipper protects the entryway from ripping, and an anchoring system secures the portable garage even in the worst of weather.
Maybe you don't want a portable garage to shelter your car; maybe you want one to act as a greenhouse! In this case, the previous carport would do pretty much everything but keep your plants alive in healthy. If you want to use a carport as a greenhouse, then check out Portable Garage Depot's special greenhouse shelters. Greenhouse shelters look like carports, except that they are built with a heavy-duty polyethylene material. This material lets in natural sunlight while keeping the elements out. This greenhouse is also super portable, so you can relocate your greenhouse and even take it with you to tradeshows and fairs!
Let's look at one more scenario: maybe you're in the market for a portable garage to shelter your outdoor animals or livestock. If so, we recommend our special animal shelters! Animal shelters are important in protecting your outdoor animals from health risks, diseases, and foul weather. That's why our animal shelters are both animal friendly and strong. Built to stand up against the roughest of weather, our animal shelters stand on steel frames and feature white interiors to bring in natural light. If your outdoor animals are not currently protected from the elements, make sure you protect them with one of our animal shelters.
As you can see, not every shelter is the best portable garage for all purposes. Regardless, if you have a need for a portable garage, Portable Garage Depot is sure to have the best garage, canopy, shelter, or tent for your unique purposes.