Portable Sheds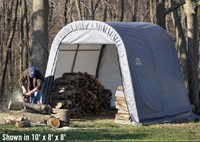 How much stuff do you have to store? For many, the amount of stuff they own surpasses the available space in the garage. If you have more stuff than you have space for, a portable shed is a reasonable option for protecting your investments and standard items.
Call Us @ 475-308-8477
Portable sheds are designed with a galvanized steel frame and a polyethylene canopy. The canopy, enclosing the shelter, is treated to be waterproof, UV resistant, and mildew, mold, and rot-proof. To give the structure full enclosure, the canopy may be zippered or have a rollup door. In any case, the canopy protects all investments inside from exposure to moisture and UV rays.
Nearly any investment can be stored inside portable sheds. When it comes to cars and similar vehicles, the shed can protect the vehicle from exposure to the elements, although if you plan to store the car and other items, such as a motorcycle, tools, and chopped wood, inside such a structure, a larger size may be needed.
Portable sheds are also ideal for seasonal vehicles, such as boats and canopies. The shed, however, needs to be large enough to accommodate the size of the vehicle. Particularly when protecting an RV, the shelter should have dimensions large enough to fit the full vehicle, appendages included, and another person inside.
Aside from vehicles and items, portable sheds are ideal for protecting livestock. Usually referred to as "run-in sheds," portable sheds on farms typically have a curved roof and an open format that allows animals to run in and out. The animals, such as horses and livestock, use it for shade or as a permanent shelter.
Portable sheds, no matter if they have a peak or rounded style, protect against snow and wind, but only if they've been installed correctly. The structure needs to be set in concrete and secured in the ground or using anchors is another option to keep the structure in place.
As many items and investments can be stored in portable sheds, make sure that you can install one onto your property before purchasing a shelter. Many towns and cities have ordinances regarding portable sheds and carports, and these often have size and location restrictions.