Portable Garages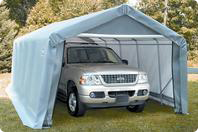 Being a leading source for instant portable multi purpose, all weather garages, Portable Garage Depot carries a full line of temporary one and two car instant, portable garages to fit any of your auto storage needs. Cars, trucks, motorcycles, boats, RVs, and materials will be protected against the elements. Heavy duty materials make for solid construction while wrapped by the best in protection covers. Powder coated or double galvanized steel framing keep the strength factor in tune, while a UV resistant, fire retardant, polyethylene with rip stop material protects against rain, sleet, snow, and wind.
Call Us Toll Free @ 475.308.8477
Protect your patio/lawn equipment, construction materials, tools, workshop areas, and many other uses are available while your instant, portable garage is constructed. With many sizes, colors and styles, Portable Garage Depot can give you the alternative to expensive garage extensions or construction. Quonset (round), peak or house, and truss style portable storage buildings are available for any uses you see fit for the space provided by one of our many portable instant shelters.
Common sizes are:
12'W x 20'L x 8'H
12'W x 20'L x 10'H
14'W x 42'L x 14'H
22'W x 20'L x 10'H
Round style portable buildings are great for rain, snow, sleet and hail runoff, while peak and house offer runoff, you get more space along the sides and a higher center ridge height. Truss style offers the ultimate in space and maximum protection against the elements.
Portable Garage Depot offers easy to assemble portable garage/shelter building kits. Pre drilled and cut to specs with an easy bolt together design allow for simple construction in minimal time using minimal hand tools, without taking away from its solid construction and element protection. Temporary or permanent, all of our portable garage building kits are made to stand the test of time and mother nature.
Build an instant portable garage with one of our numerous portable building kits. A leading manufacturer and supplier, we guarantee the lowest prices when buying factory direct. Let Portable Garage Depot be your alternative to expensive wood or metal construction, check out our massive inventory of all weather, instant portable structures and let us cover your valuables.