Carports for Sale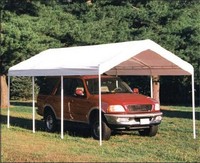 If you are a car owner, you probably made at least somewhat of an investment into your vehicle, and because of this, it is likely that you want to keep that investment protected. You do this with your car locks and car insurance, but you may want to add an extra layer of protection with a carport. If your home already has a garage, you may not think that you need a carport and you may be right; but what if you have more cars than you do parking spots?
Call Us @ 475-308-8477
You probably don't want to have to pick and choose which of your cars gets to be protected from the elements. By adding a carport to your driveway, you can ensure that all of your cars are protected and you will be able to cut back on snow shoveling this winter. Carports are easily assembled in no time at all, and you can easily do it by yourself if you need to. These handy portable shelters take less time to assemble than a traditional garage, and they come at a fraction of the price.
By browsing our selections of carports for sale, portable garages, and other portable shelters, you will discover that there is a shelter for everyone on the market it's just a matter of evaluating your needs and finding the best product to coincide with those needs. Once you know which product is going to be perfect for your needs, you will be on your way to protecting your automobile, recreational vehicle, motorcycle, bicycle, all terrain vehicles, and anything else that you may be able to think of. And our carports for sale and portable shelters aren't just useful for parking modes of transportation; they also make excellent temporary storage facilities.
As you can see, there are a plethora of reasons that you may want to consider investing in one of our carports for sale, so now it is up to you to find the perfect solution for your home. Feel free to contact our customer service department today with any questions about selecting your portable building; you'll be thrilled with the end product and the journey you took to get there.