Pop Up Canopy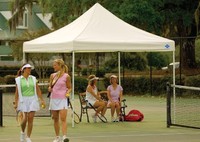 Temporary shelter is needed in various instances. And, many times, an umbrella just doesn't cut it. When you need a temporary shelter that stays put and stays in the ground, a pop-up canopy will meet all of your needs. Although also called a "party tent" or "instant canopy," a pop-up canopy folds out into a frame and shelters an area. Additionally, the structures have angled and straight options for legs. Such a structure is portable enough to be brought to the beach, trade shows, and any other instances in which you'll need shade. For more protection, these structures can be modified with netting to block out insects or walls to keep out the rain.
Call Us Toll Free @ 475.308.8477
A pop-up canopy is designed for temporary outdoor use and should be taken indoors once you're finished. The structure is made from a powder-coated steel frame and a polyester canopy. The canopy is treated to be waterproof and UV resistant and, in many instances, is attached to the metal frame. The structure, then, folds out with the canopy attached. Anchors are needed, additionally, to keep the shelter in place outdoors.
A popular place for taking a pop-up canopy is the beach. Instead of bringing an umbrella, you can take a canopy in your car and unfold it on the sand. The shelter will provide you with more shade and, if you have any guests, will shade others, too. Once the day is over, you can pack up the pop-up canopy and take it home.
Aside from the beach, flea markets and trade shows are other popular places where canopies are needed. Rain may hit any minute when you're outdoors, and, to protect your investments, a pop-up canopy can be erected in a number of minutes. Additionally, the structure will shade you from the sun until the event is over.