Carport Canopy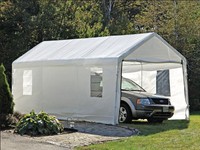 If you are a car owner, you probably know how important it is to keep that vehicle protected from the elements. If your home is not equipped with a garage, either because there isn't enough room for a full garage or it is too expensive to add one, you may want to consider the benefits of a carport canopy. One of these useful canopies can easily be set up at your home and used almost instantly to keep your car protected from the elements. Carports offer reliable protection that help ensure that your one or more vehicles stay in great condition for years to come.
Call Us Toll Free @ 475.308.8477
When you first think of a carport, you may think of a metal structure constructed fully out of steel. But carports come in many varieties, including those that are made out of a metal frame and a polyethylene cover. You can find carports in many different sizes, so whether you need a covered location to park your lawnmower or somewhere to park a fleet of work vehicles, you will be able to find the perfect carport canopy when shopping with Portable Garage Depot. Our carports offer durability and vehicle protection that imitations may not, so start browsing our selection today to discover which shelter is going to be perfect for your home or business.
Your vehicle is an investment that you very likely want to keep protected for years to come. By purchasing a carport canopy today, you can rest assured that your vehicle will remain protected from the elements. It is important to keep in mind that canopy carports will likely just offer overhead protection; if you are looking for protection on all sides, you may want to consider a portable garage. Whatever kind of vehicle protection you are searching for, you can likely find it at Portable Garage Depot.