Portable Buildings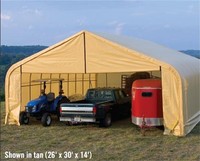 Not every home is equipped with a garage. When you have a car or other vehicle to cover, don't worry – or go out to buy bricks and mortar. Portable buildings are an affordable solution. Designed with a steel frame and a polyethylene canopy, portable storage buildings can be anchored into the ground to protect any investment. From your car or motorcycle or firewood, one of these shelters keeps out UV rays and moisture and allows air to circulate underneath.
Call Us Toll Free @ 475.308.8477
Although the versatility of portable buildings is certainly an asset, these shelters are designed to be strong. Most are made with a galvanized steel frame that, once anchored into the ground, holds up against high winds and heavy snow. But even though the frame provides the strength, the canopy has its own protective properties. All canopies are made from heavy-duty polyethylene and are treated to be waterproof, UV resistant, mildew resistant, and rot proof. The structure of portable buildings also allows air to circulate inside, which prevents mold, mildew, and dry rot from forming on the surface of the vehicle.
Made with a valance or enclosed style, portable storage buildings protect several investments. Cars are the most common, although seasonal vehicles also benefit from these shelters. While fun for several months, seasonal vehicles, such as boats and RVs, need to be placed in storage for the rest of the year. When the vehicle is left outdoors, however, the water and UV rays wear away and crack the surface; mildew, mold, and dry rot also have a greater chance of forming. Placing an RV or boat inside a portable building protects them from water and UV exposure, and essentially extends their lifespan.
Aside from use as a garage, portable buildings are often used as storage sheds. Homes without a garage lack in work space, and an enclosed portable building can be turned into a work area, tool shed, or storage area.
Convenience and versatility are notable aspects of portable buildings, but local ordinances may restrict where these shelters can be placed on your property. Local ordinances usually specify that a shelter cannot be placed in front of a home; side and rear locations, on the other hand, are usually acceptable. Additionally, such local laws may have requirements for the size and amount of portable buildings on a property. One or two shelters typically are allowed, and most should be no larger than two or three cars.